Commercializing Consumer Engagement
An authoritative cookbook about understanding consumer behaviors and engaging people through digital personalization methods. True engagement provides people with relevant interactions and treatments in order to help them manage their health conditions and chronic diseases.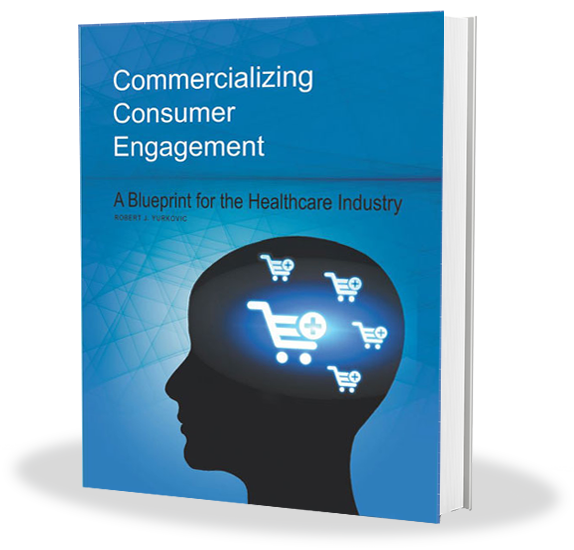 Inside:
State of Healthcare and B2C Shifts
Consumer Behaviors
Methodologies and Approaches
Processes and Strategies
Cultural and Experience
Best Practices and Planning
How to's and Examples – 75 diagrams, Templates and Forms
ISBN 978-1-4834-2815-4 ebook
ISBN 978-1-4834-2816-1 paperback
Published April 2015 First edition, Second edition 2016
Author: Bob Yurkovic
---
Purchase your book
The book is available at Amazon, Barnes & Noble, iTunes, and lulu.com. View Chapter 1, Understanding Healthcare is free on the Book Site. 2nd edition is only available on the Lulu Publisher site.

---
Book Reviews
Enjoying the connections to customer service and culture shaping. The infrastructure for supporting a culture shaping process is all here [Chapter 4]. Dennis Alimena, VP Senn Delaney


This book is exactly what the health care industry needs right now! As the industry transforms, winners will be the experts on customer experience, this book is a path to that knowledge. Tim Gilchrist, Director eBusiness, Anthem


Commercializing Consumer Experience is a must read for anyone in healthcare or anyone that wants to come to healthcare to help fix it. Vince Lasorsa, VP Mobile Health Solutions


Yurkovic hits the bullseye with insightful perspectives on actionable consumer engagement.Dennis Robbins, Ph.D, Strategic Engagement Advisor to corporations and government