By Robert Yurkovic
January 24, 2016
Digital is not new, it's just a hot topic as we make another leap forward in technology. Computers ushered in a new era in the 60's and 70's through automation to businesses and our lives. Digital continues to impact our lives every decade in a significant way. But only recently has it taken an interesting turn whose impact will be felt in every aspect of our lives and lifestyle. As computers invaded our lives, they started with industrial applications and shifted to consumer-centric uses. IoT is also experiencing the same shift and we see this in the growth of personal devices supporting uses such as health, fitness, and home automation. Is this a great time or what? Or is it a time to think about what we are doing with technology before it alters our lifestyle, or worse, eradicates the human element?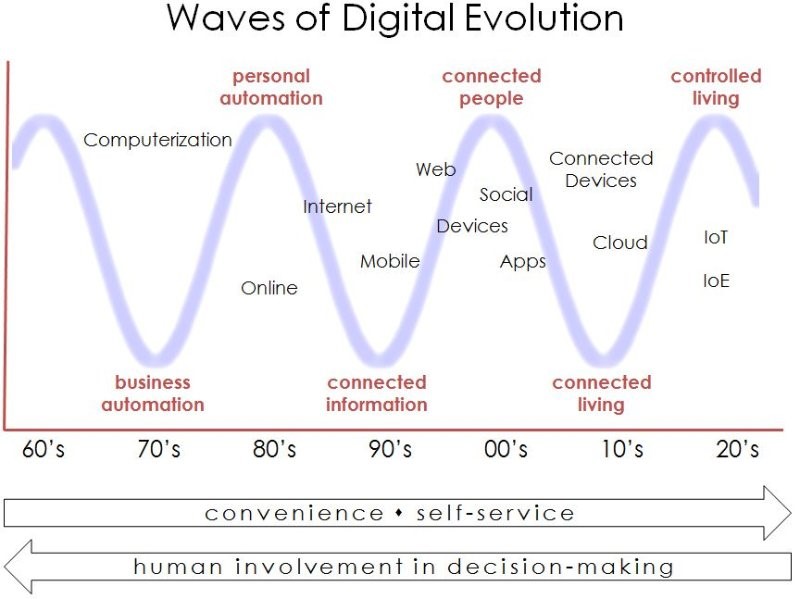 Health care needs technology to connect disparate services and provide relevant data enabling health professionals to collaborate and make intelligent medical decisions about our health. IoT can also help expose medical mistakes before causing serious harm. Connected devices are permeating the health industry with new applications and promises of better health. How we implement technology is as important as the technology we use.
Consumer Behaviors and Health
The era of online consumerism has forever changed the way we think as well as what we expect. We expect services that are easy and convenient, and products that appear at our doorstep only a day or two after placing an online order. The concept of quick and easy is seen in the marketing of health products offered to the public – lose weight, look younger, or get healthier in a few weeks. Consumers want to feel good and if we can do it quick and easy, it fits into our hectic lifestyle. With our busy schedules, we don't have time to think and patience is a trait not worth waiting for. Unfortunately, good health requires an investment of time that is not often convenient to our lazy mindset.
Connected Living
The proliferation of connected devices reinforces the behaviors of convenience as we sit back and let micro-devices begin to control our life. Wouldn't it be great if a device attached to your skin senses an abnormality, which could trigger a future heart attack, and then the device sends a warning to your smartphone, care-givers, or a local medical center? Perhaps a connected device samples your saliva and finds your glucose level is high, which could be a sign of pre-diabetes or finds a high level of specific bacteria in your mouth indicating probable tooth decay. These examples help the person to manage their health in real time and provide early treatment with a side effect of lower medical costs. They are examples of Connected Living. Connected health care has many benefits for the person, community and economy. Connected Living is good for everyone and the healthcare system also benefits.
Controlled Living
However, if we continue to follow our path of convenient and easy living, we can become too reliant on connected devices to make decisions for us. With a high number of connected devices residing on the network, there has to be a form of artificial intelligence (AI) among themselves since a trillion devices would clog the network and ultimately the connecting hubs. The connected devices could share data with each other and make, what I call, micro-decisions using light AI. A blood monitoring device could regulate insulin delivery based on data received by that device. This is good and the person benefits. The danger is, if a collection of devices expand beyond a specific function, such as insulin delivery, and makes micro-decisions affecting our environment; it alters our lifestyle and habits based on device data and micro-decision rules. When AI's ability goes beyond light AI, we enter the digital stage of Controlled Living. Keeping the human element in our lives is important and especially important for our health and lifestyle. Just because I am feeling a little blue one day, I do not want a device to detect this and inject something to perk me up. The rule of "if feeling bad, correct by drug" may seem logical since who doesn't want to feel good but not in a way that is manipulated by a device or logical rule. Perhaps I need to feel a little blue since my dog was injured and the experience is part of living. No amount of digital data and logic rules can replace the intuition and problem solving capability of medical professionals.
Artificial Intelligence
Stephen Hawking warned us about the risks of artificial intelligence. We need light AI to manage the network of connected devices to keep the network from over-saturating. But when AI takes over personal decision-making, we welcome an easier lifestyle and become lazy and complacent. The nation's population is becoming unhealthier every year as we continue adopt lazy and complacent behaviors. Our bodies are deteriorating so let's not let the mind suffer as well. Decision-making keeps us healthy and helps us learn as we experience life.
Decision-Making
Decision-making has three components – the analytic side, emotional side, and the unconscious side of the mind. We make most of our decisions based on the emotional side and the unconscious side. Last year, I created a Mind Molecule model showing the analytic and emotional elements of our minds. I added a new lobe, the unconscious side where decision-making occurs through influences, habits, and internal ethics. The model supports the components of how we think and behave. Emotions, such as compassion, are not logical and cannot be programmed into a connected device so the device has a limited ability to make complex, worldly decisions. Influences from other stimuli can provide good and bad outcomes and we have already seen this with social media. Now we can think about the impact of device media – shared opinions from digital devices.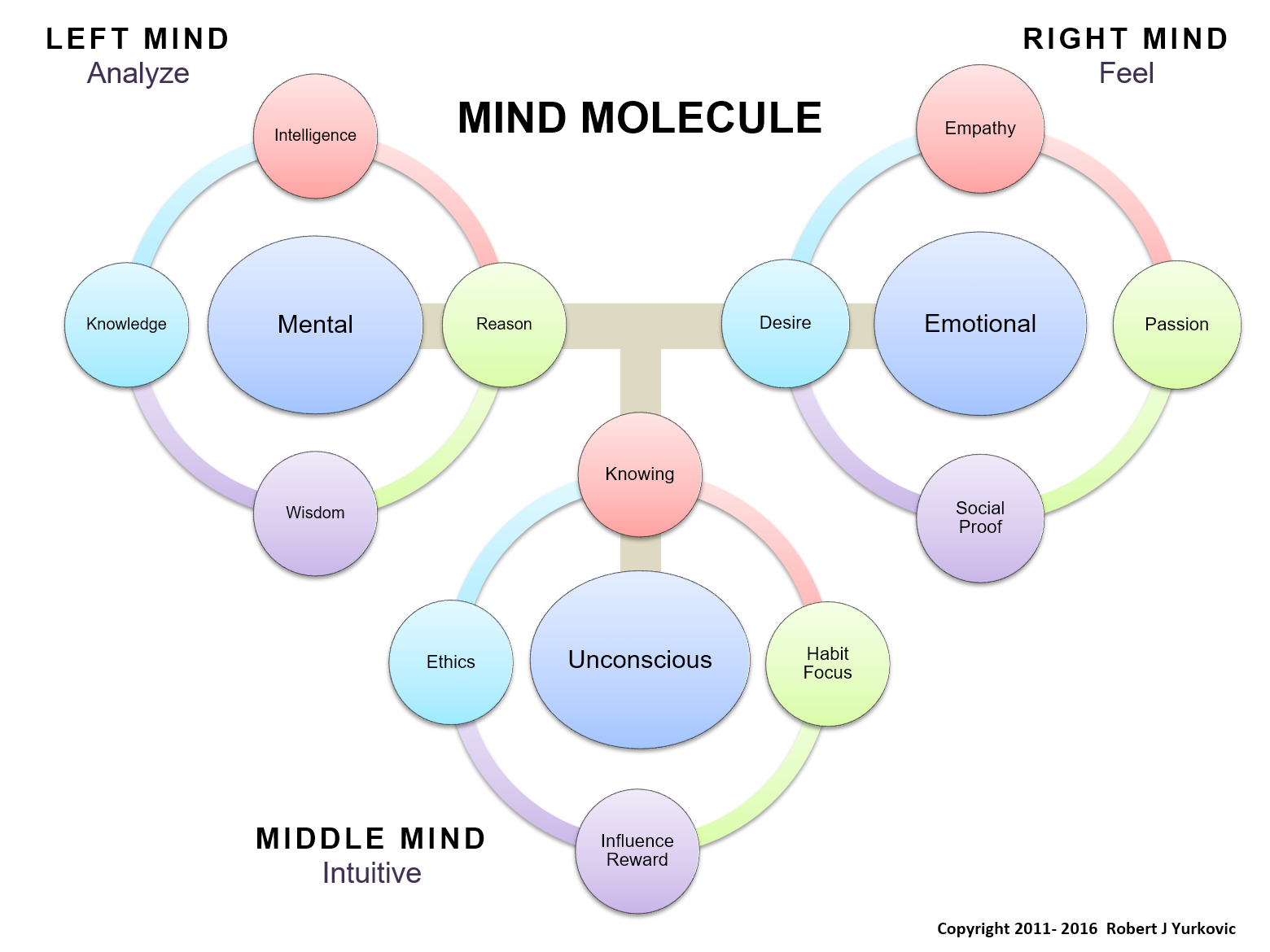 Insurance Payers and Technology
Another issue that is surfacing recognizes many medical professionals are processing people quickly and not taking the time to discover root causes. In an effort to reduce medical costs, some Payers limit the time per patient and limit treatment to reduce waste. For doctors to make reasonable a profit, they quickly identify a symptom, treat it, and move on to the next person. The concept of value based compensation may change this if the Payers let the doctors do their job properly, but controlled devices will exacerbate this problem if Payers rely on technology to diagnose and treat people. Technology may not show all evidence of a health problem or the root cause; the health problem may require more than device data to solve it. This became evident when I interviewed a physical therapist. She stated the Payer would only let her treat the neck where the pain was located even though she knew, through her training, that the cause of the neck pain was from the hip area. Again, being quick and easy does not improve health care – we are complex systems and deserve more.
Digital Technology as an Enabler
Technology is not a solution, but an enabler to a solution. With technology, it is important to implement it in a way that does not interfere with the human element in decision-making. Effective health care requires the human element. We must harness the power of technology and manage it in a way that supports a better life and solutions that enable individuals and professionals. We are in a stage of Connected Living and it is important to chart our course carefully without making things too easy and convenient. Sometimes, low cost and a short cut is not the correct answer to support quality of life. I agree with Professor Hawking in that Controlled Living dehumanizes people so beware; we need to shift the current trend of removing the human element as we embrace IoT.